Prologue
In 2007, I'd been back on the bike for less than a year, there was a CX-club rally hosted by the English club in Kent, England. Back then, such adventures were too adventurous for me, and not quite my cup of tea. Somehow though, I felt the need to meet two of those 'Kent-goers' which eventually resulted in my 'Red Rascal' being lent out to 'blinker light' Frans, who would drive it. Sadly though, that didn't happen: Frans and Henk came back on my CX, after Henk's CX malfunctioned somewhere in Belgium.


The years passed, Vechta in Germany and SJK, the Dutch CX rally, were added to my list of experience. An impressive journey to Santiago de Compestella was undertaken, and after roughly ten years I felt like quite a motorcyclist. Germany and France were no longer foreign countries to me. What left was England, which always remained a bit out of reach.


Late 2015, I was making plans for a visit to the English gathering in 2016. Other priorities prevented me from going, but the 2017 gathering should be do-able. A call was put out through the Dutch Honda V-twin club forum, and Frans (another Frans than the first time) wanted to explore England on a CX as well. Frans had a CX too, a red one, and he also had managed to acquire a red fairing, which made his bike and mine look like twins. His was better polished, though... Nevertheless, the 'twin CX's' were going to England!


We booked tickets for the nightferry at the Stena-Line. The rally in England would take place near the village of Tewkesbury, at the river Severn. Traveling there through the Channel Tunnel would be a journey of over 720 kilometers, which would last nearly 8 hours. We'd also need to find a place to sleep, though. While the costs of staying the night at a camping, the gasoline and using the tunnel turned out to be cheaper than taking the ferry, the prospect of a good night's sleep, no fuss at a camping and avoiding the M25 near London, made me decide to take the ferry anyway. Frans had been to England several times, and luckily he agreed. He was especially fond of avoiding the M25. The ferry would lengthen our trip by several hours, though the trip itself would be a few dozen kilometers shorter.


Departure to England
That Thursday night, we left around 18:00 hours from Ede. The sun was shining, the weather was great and the motorcycle performed admirably. However, it was a regular Thursday evening, with the regular traffic jams popping up on the road. Being stuck in such a traffic jam, with a watercooled CX, makes the temperature gage climb slowly but surely. So, we carefully and slowly drove past the cars that were standing still, until there was some more room. And onwards we went.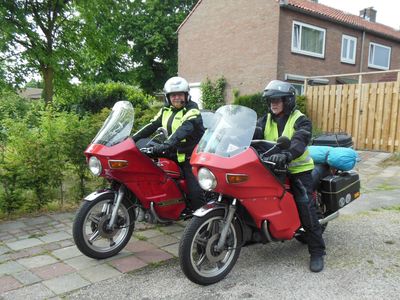 ... onwards ...


On the A20 near Rotterdam/Schiedam were several traffic jams as well. A driver of a rather luxurious car looked aside, saw my sidecover, and laughed. I laughed too, because he was too distracted to see that there was ample room ahead. A tiny bit of acceleration, and the 'Red Rascal' had moved ahead a bit further. When we'd passed the place where the emergency services closed down a lane, we made better progress. Past Maassluis, over the dyke, towards Hoek van Holland. It must've been thirty, thirty-five years ago that I'd been here last, to bring my aunt to the ferry to England.


As we approached the Stena grounds, I saw a ship docked in the distance. That had to be the 'Brittanica'. The sight startled me for a moment, because the ship was enormous! Keep on going then, as if nothing was wrong. At the Stena check-in counter I got two tickets: one for the cabin, and one for breakfast. The customs check might have been even faster than checking in, and so Frans and I boarded the ship. We weren't the first, but definitely not the last either. A Stena employee gestured at us to keep on moving, so we did.


As far as I'm concerned, the plates used to drive onto the ship were terrible things. Curved edges were welded onto these steal plates. While it probably provided lots of grip for car tires, it wasn't fun for a motorcycle. Usually, when I'm driving slowly, I do so with my feet just above the ground. Here, that resulted in my feet getting a serious beating. I was forced to lift my feet and drive up slowly, without the possibility of putting my feet down for stability. The first chance I got, I steered towards a place where I could drive without those blasted edges.


We were directed towards a place for motorcyclists. We weren't the first ones there, but luckily there was enough room. The motorcycles were secured using the available straps. Stena advised to let the motorcycle rest on its side-stand and secure it with a single strap. Frans however, had a better idea: he put the motorcycle on the enginestand, and used three straps, one to secure the stand to the front wheel. Now the bike wasn't going anywhere.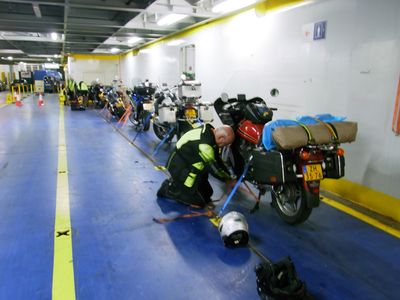 ... using three straps ...


When I went to find my cabin, I was pleasantly surprised, and a bit insecure, when I found that I had a five-person cabin on deck 11 all to myself. Later on I'd better check to see if there hasn't been a mistake. For now though, I removed the motorcycle outfit, put on my shoes and gathered all my necessary papers and other important items. Now I went to deck 9, where the public area waas located. A service counter could be found there as well. Better check to see if the five-person cabin was really just for me. Luckily, it was.


Frans was already there, sitting at the window, watching events unfold outside. There's always something to do in a harbour, even late in the evening. We also visited the aft deck, where we had a broad view of Hoek van Holland and the waterway. It was cold at the aft deck though, it was getting late, and I was eager to go to sleep. It's a good ship, the Stena Britanica. After a revinvigorating shower I leaped into bed. Not much later the steady hum of the engines and the slow rocking of the ship had lulled me to sleep.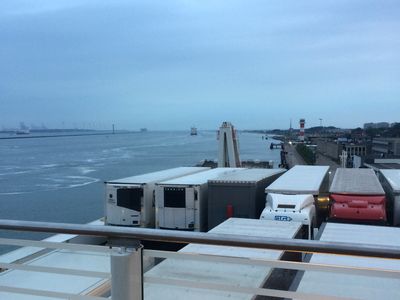 ... we had a broad view ...